A Wide Array of
Home Health Care Services
Led by registered nurses, Divinity's skilled nursing team is dedicated to meeting the needs of our patients. The care of all individuals is coordinated with the patient's physician and provided at home. Here are just a few of the expert nursing services we provide:
Divinity's team of therapists boasts a combined 50 years of experience in the field. After evaluating a patient's histories, and performing the necessary physical exams, our team members will arrive at a diagnosis and establish a plan of care tailored to the individual's specific needs. Our physical, occupational, and speech therapists work alongside patients' physicians to meet their rehab needs and help set them on the road to recovery.
Physical therapy is primarily concerned with the promotion of mobility, functional ability, quality of life, and movement through examination, evaluation, diagnosis, and physical intervention. At Divinity, our physical therapists focus on the large motor groups that contribute to walking, reaching, standing, and other physical activities and offer the following services:
Occupational therapy focuses on all the activities of daily living. Our knowledgeable OTs help individuals achieve independence and improve their ability to perform daily activities and self-care tasks such as:
The speech therapists, or speech-language pathologists, at Divinity specialize in the evaluation and treatment of communication and swallowing disorders.
Social workers consult with patients and their families in order to coordinate community resources, financial assistance, and family counseling. On the other hand, medical social workers assess the psychosocial functions of patients and families and intervene as necessary.
Typically, medical social workers work on an interdisciplinary team with professionals of other disciplines, including medicine, nursing, physical, occupational, speech, and recreational therapy. They explain the nature of an illness and advise the patients and families on how to deal with symptoms and treatment.
Nursing Aides
Certified nursing aides work under the supervision of a nurse to help patients with healthcare needs. Additionally, they perform fulfill basic quality-of-life needs for patients of all ages, such as: feeding, bathing, dressing, grooming, and changing bed linens, among other tasks.
Since nursing assistants have daily contact with patients, they are gatherers of vital information about the patients' conditions. At Divinity, our certified nursing assistants act as helpful liaisons between the RN or LPN and the patient. In many cases, the assistant serves as the RN or LPN's eyes and ears.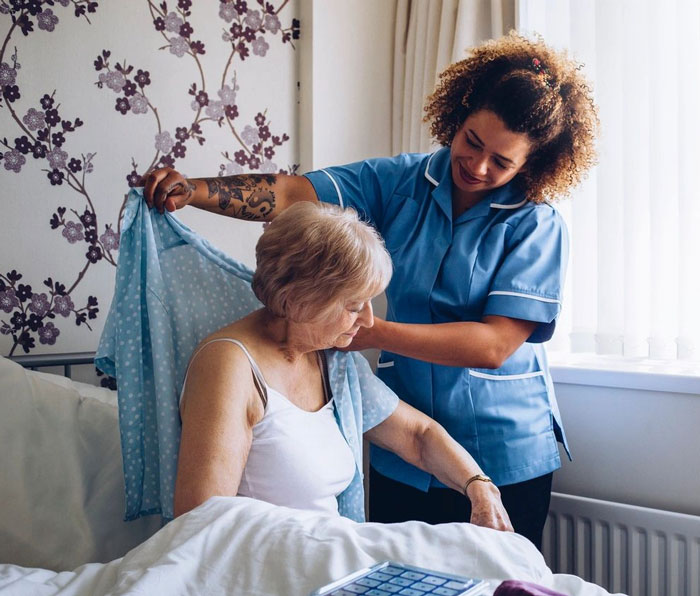 Home Health Care Costs
At Divinity Home Health Services in Thibodaux, our goal is to provide all patients with the best care possible regardless of ability to pay. It's no secret that healthcare costs can take a serious toll on the average American family. By seeking treatment from a home health agency that is Medicare certified, clients can often reduce their out‑of‑pocket costs.
Divinity is a Medicare Certified home health care company. Unfortunately, not all home health care agencies are Medicare-certified. To be Medicare-certified, a health agency must agree to be paid by Medicare and accept only the amount of money that Medicare approves for its services. Additionally, Medicare-certified agencies must commit to covering the following services if deemed reasonable and necessary:
It's important to note that Medicare doesn't cover all the needs of home nursing patients. For example, Medicare doesn't support the cost of 24/7 home health care or pay for meals to be delivered to patients' homes. Additionally, Medicare may not provide for homemaker services or personal care when that is the only care needed or when not related to an individual's care plan. Patients who require these services may need to pursue alternate methods of financing their care.
Private insurance differs from Medicare in that it depends on which insurances are in-network with various home health agencies. If you choose to work with Divinity, we will contact your insurance provider to determine home health coverage and benefits.
Looking for more information about financing your home health care? Call Divinity Home Health today to speak to one of our representatives. We look forward to helping you secure the best possible care for yourself or a loved one.